WELCOME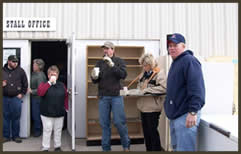 McNamee Auction Company is proud to be family run, full service auction company. We have been in business for ten years and are very excited about the growth of our business in that time.

If you would like to email us about your consignment, please fill out this form for each item and send it to mcnameeauction@gmail.com
Upcoming Auctions:
Lofink Farms Dispersion Auction
Saturday, March 28th - Starting @ 10:00 AM


**Due to the Covid 19 outbreak, McNamee Auction Company will utilize an on-line format for the Lofink Farms Dispersion auction. Please be advised that we will not be offering the entire auction on-line. To view the catalog of items being offered or to register on-line and begin the bidding process, please follow the attached link to our on-line bidding portal through HiBid. If you are not familiar with the on-line bidding format and have questions pertaining to that process, please feel free to email us at mcnameeauction@gmail.com or give us a call at 307-532-4976. Thank you for your patience during this challenging time.
Michael McNamee, Owner, McNamee Auction Company
Scheduled Upcoming Auctions!
Saturday, April 11th - Juel Afdahl Benefit Auction - Torrington
Wednesday, April 15th - Farm & Ranch Equipment Auction - Faurburn, South Dakota
Saturday and Sunday, April 25 & 26 - Les Beeken Guns, Ammunition, & Tools Auction - Cheyenne
Saturday, May 2nd - Spring Consignment Auction - Torrington
Saturday, May 16th - Antiques & Collectibles Auction - Torrington