WELCOME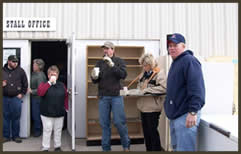 McNamee Auction Company is proud to be family run, full service auction company. We have been in business for ten years and are very excited about the growth of our business in that time.

If you would like to email us about your consignment, please fill out this form for each item and send it to mcnameeauction@gmail.com
Upcoming Auctions:
Farm & Ranch Equipment Auction
Saturday, March 13th – Starting @ 10:00 AM
260 Lund Road – Lusk Wyoming
Ron Kaufman Farms Retirement Auction
Saturday, March 20th – Starting @ 10:00 AM
5692 Rd. 55S - Torrington, WY
McNamee Auction Company Presents:
2021 Spring Consignment Sale
Saturday, April 10th – Starting @ 9:00
In the Main Parking lot @ the Goshen County Pavillion
We are currently taking consignments in the following categories: Farm Equipment including tractors, tillage equipment, haying equipment, 3 pt. attachments Construction Equipment & Material Titled items including vehicles, trailers, ATV's, side-by-sides Fencing material including posts & wire Irrigation supplies including pipe trailers, gated pipe, & pipe fittings Livestock handling equipment: chutes, calf tables, panels
For more information call Michael @ (307)534-5156 or
(307)532-4976 or Jace @ 307-575-6723
To consign items, email pictures and information to mcnameeauction@gmail.com or leave information at our office located in the Clark and Associates office at 320 East Valley Road.
***The advertising deadline will be Monday, March 22 at 5:00PM Consignments will not be taken at the sale site after Thursday, April 8th @ 5:00PM***
All items must be removed from the Fairground facilities by Sunday, April 11th. There will be a loader & a loading dock on the sale site during the week of the auction. Please, NO USED TIRES.
Any consignments that do not fit into the above categories will need to be approved before delivery. Please call before drop-off if you have questions.
Scheduled Upcoming Auctions!
Saturday, April 3rd – Starting @ 10:00 AM. Ed Hawley moving auction. Torrington, Wyoming
Saturday, April 10th – Starting @ 9:00 AM. Annual Spring Consignment Auction, Goshen County Fairgrounds, Torrington, Wyoming
Saturday, April 17th – Starting @ 10:00 AM. Shriner Family Estate Liquidation Auction. In the Ag Hall, Goshen County Fairgrounds, Torrington Wyoming
Saturday, May 1st – Starting @ 10:00 AM. Henry Boltjes Estate Liquidation Auction. In the Ag Hall, Goshen County Fairgrounds, Torrington Wyoming
Tuesday, May 4th – Starting @ TBD. Biddick Ranch Equipment Auction. Laramie Wyoming
Thursday, May 13th – Starting @ TBD. Ann Abbott Ranch Equipment Auction, Torrington Wyoming
Saturday, May 22nd – Starting @ 10:00 AM. Sportsman Club Guns & Outdoors Auction, In the Ag Hall, Goshen County Fairgrounds, Torrington Wyoming
Saturday, June 5th – Starting @ 9:00 AM. Tom Daiss Estate Liquidation Auction. Lingle, Wyoming
Saturday, June 12th – Starting @ 9:00 AM. Sharon Fiscus Moving Auction. Torrington, Wyoming

***All auctions are subject to change, depending on restrictions relating to Covid 19. Please watch our web site for any changes to the schedule or call 307-532-4976 before heading to the auction to confirm the auction status.***